Ambassador L. Paul Bremer, Who Headed American-Led Occupation of Iraq, to Deliver Ubben Lecture September 16
July 16, 2004
"DePauw Discourse 2004: Issues for America" Information
July 16, 2004, Greencastle, Ind. - L. Paul Bremer III, former presidential envoy to Iraq, will come to the campus of DePauw University, Thursday, September 16, to deliver The Timothy and Sharon Ubben Lecture. The speech by Ambassador Bremer will open "DePauw Discourse 2004: Issues for America," a three-day election issue forum hosted by the Washington C. DePauw Society (read more here). The event will begin at 8 p.m. in Kresge Auditorium within DePauw's Performing Arts Center. Like all Ubben Lectures (see complete list by clicking here), it is free and open to the public.
As presidential envoy to Iraq, Bremer was the senior coalition official in the country, overseeing reconstruction efforts and the creation of new institutions and governing structures. Ambassador Bremer accomplished his mission on June 28, 2004 when he successfully handed over power to the interim government of Iraq.
"If the U.S. occupation of Iraq has proved that Secretary of State Colin Powell was right to remind President Bush before the war that if the U.S. broke Iraq, the U.S. would own it, then Bremer was the guy who got handed the broom," wrote TIME magazine.
"He was tasked with sweeping up the mess, responsible for everything from making sure the electricity was on, to putting together a new central bank, to coming up with a workable political system in a country where politics had, for the past 24 years, come at the end of the barrel of a gun." Bremer told the magazine, "If you go back and look at what has been accomplished, I would say that we have [done] almost everything we set out to accomplish at liberation. [President Bush and Prime Minister Blair] had a vision of an Iraq that was stable, pluralistic, democratic, at peace with itself -- and we have accomplished most of that. There are still problems with security, of course, and I expect there will continue to be problems with security."
During his 23-year State Department career, Ambassador Bremer served as special assistant or executive assistant to six Secretaries of State. His overseas assignments have included service at the embassies in Afghanistan and Malawi and service as deputy chief of mission at the American Embassy in Norway.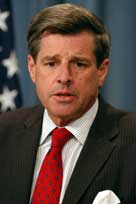 President Reagan named him as Ambassador to the Netherlands in 1983 where he served for three years. Ambassador Bremer also served as executive secretary of the State Department and was President Reagan's Ambassador-at-Large for Counter Terrorism.
Paul Bremer is one of the world's leading experts on crisis management, terrorism and homeland security. In September 1999, the Speaker of the House of Representatives, Dennis Hastert, appointed him Chairman of the National Commission on Terrorism. In June 2002, President Bush appointed Ambassador Bremer to the President's Homeland Security Advisory Council. He has also served on the National Academy of Science Commission examining the role of Science and technology in countering terrorism and chaired a Heritage Foundation study, "Defending the Homeland".
During his career, Ambassador Bremer has received the State Department Superior Honor Award, two Presidential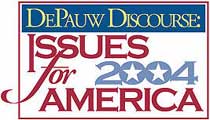 Meritorious Service Awards and the Distinguished Honor Award from the Secretary of State. He is a member of the International Institute for Strategic Studies, and the Council on Foreign Relations.
Prior to being in Iraq, L. Paul Bremer was chairman and chief executive officer of Marsh Crisis Consulting Company, a crisis management firm. From 1989 to 2000, he was managing director of Kissinger Associates, a strategic consulting firm headed by former Secretary of State, Henry Kissinger. Before rejoining government, Mr. Bremer had been a director of Air Products and Chemicals, Inc., Akzo Nobel NV, the Harvard Business School Club of New York and the Netherland-America Foundation and a trustee of the Economic Club of New York.
He is also the founder and president of the Lincoln/Douglass Scholarship Foundation, a Washington-based non-profit organization that provides high school scholarships to inner city youths.
L. Paul Bremer received his B.A. from Yale University, a C.E.P. from the Institut D'Etudes Politiques of the University of Paris, and an M.B.A. from Harvard Graduate School of Business Administration. In addition to his native English, Bremer is fluent in French, Dutch, German, Persian and Norwegian.
The Ubben Lecture Series has brought distinguished individuals to the DePauw University campus since 1986, including 2004 presidential candidate and retired General Wesley Clark (seen in photo at right), former British Prime Ministers Margaret Thatcher and John Major, General Colin Powell, Ross Perot, Spike Lee, Mike Krzyzewski, Harry Belafonte,
ice cream entrepreneurs Ben & Jerry and former U.S. Senator and Defense Secretary William Cohen. To view a complete list of Ubben Lecturers, which includes links to video clips and news stories, click here.
As previously announced, Peyton Manning -- the 2003 National Football League co-Most Valuable Player and president of the Peyback Foundation, a non-profit organization that serves underprivileged children -- will deliver an Ubben Lecture on Tuesday, October 26. Read more by clicking here.
Back