Political Conventions a "Dying Institution," Prof. Ken Bode Writes in Weekly Op-Ed
July 16, 2004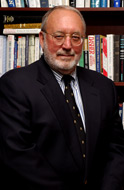 July 16, 2004, Greencastle, Ind. - "A few years back I served on a national commission on presidential nominating conventions, a group made up primarily of representatives of the two parties and the media, print and broadcast," writes Ken Bode, Eugene S. Pulliam Distinguished Professor of Journalism at DePauw University, in today's Indianapolis Star. "'Why aren't we getting our full four nights of prime time?' complained one party official. 'Because you have managed to wring everything newsworthy out of the conventions,' was the answer. Conventions are a dying institution, entirely ceremonial, studded with promotional videos, patriotic music, and entertainment acts. Once important and vibrant national institutions, nominating conventions have dissolved into public relations vehicles, with controversy and suspense deemed undesirable."
In his weekly op-ed column, Dr. Bode argues that political conventions -- once fraught with drama, controversy and news -- have become pre-scripted bores. "There will be no serious platform challenges at either convention this year. In fact, it is a safe bet there will not be a single minority report in Boston or New York, none that you will see on television. Once there were even floor fights and
second ballots over the vice presidency. Now, of course, the tradition is to get that mystery out of the way early. It all began to change when the Democrats abandoned their rule requiring a two-thirds majority for the nomination. Then followed the reforms that produced binding primaries and all but eliminated favorite sons. Any notion of a brokered convention is now a fantasy in the mind of a wishful political reporter."
Bode tells readers that, despite the yawns the two conventions may induce, they may as well watch them because "you are paying for them. In 1974, as part of its post-Watergate election reform, Congress created a fund to underwrite the conventions with an escalator clause to cover inflation.

What began as a $4 million federal subsidy now exceeds $15 million for each party. It is time to sunset this pension."
Read the entire essay at College News.org. Access other recent columns by Professor Bode, former senior political analyst for CNN, here, here, here, here, here, here, here, here and here.
Source: Indianapolis Star
Back