Watching This Year's Monon Bell Telecast as Easy as 3-2-1
July 19, 2004

[DOWNLOAD VIDEO: "See The Ballad of the Monon Bell" 9346KB]
[DOWNLOAD AUDIO: "Hear The Ballad of the Monon Bell" 2900KB]
July 19, 2004, Greencastle, Ind. - For the first time in its 111-year history, the Monon Bell Classic will be available nationwide via DirecTV when DePauw University and Wabash College battle this fall in one of college football's greatest rivalries. The annual telecast can be seen on channel 321 on DirecTV as well as on WHMB (Channel 40) in Indianapolis, at 1 p.m., Saturday, November 13. The announcement was made today by Ken Owen, director of media relations at DePauw; and Jim Amidon, director of public affairs and marketing at Wabash.

[DOWNLOAD VIDEO: "2000 Monon Memory" 1639KB] The "Battle for the Bell" was telecast nationally by HDNet last fall, however, to access the telecast viewers needed to own high-definition televisions and satellite equipment and be HDNet subscribers. "This year's arrangement ensures that anyone who has access to a DirecTV signal -- and you'll find it at almost any establishment that shows NFL games on Sundays -- will be able to pull in the game," Owen says.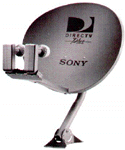 "Our alumni have been asking us for several years to get the Bell game on a small dish system, and it's proven to be tricky, but we're very pleased to announce that we've found a solution."

[DOWNLOAD VIDEO: "1955 Monon Memory" 1772KB] In the past, the game has been televised on ESPN2 and ABC, was featured on CBS' Sunday Morning, and has twice been spotlighted in Sports Illustrated. ESPN listed the Bell Classic among "college football's greatest rivalries," and the annual DePauw-Wabash clash is also detailed in Rites of Autumn: The Story of College Football, a book by Richard Whittingham.
"The bottom line is that our alumni, students and parents will be able to tune in the game more easily than ever before,"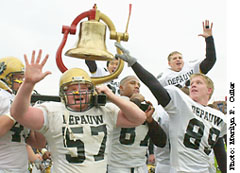 said Amidon. "We've televised the game for years, but it's usually required professional satellite equipment that requires users to tune in the game -- never an easy task -- or, in the case of last year, people needed to have an extremely high-end set-up. If you have DirecTV in your home, it's as easy as going to channel 321 on game day. It will be equally simple for viewers at restaurants and sports bars to pull in the signal."

[DOWNLOAD VIDEO: "1996 Monon Memory" 4575KB]
The two teams first clashed on the gridiron in 1890 and have met every year since 1911. Heading into the 2004 contest, Wabash has a one-game edge in the all-time series with 51 victories to DePauw's 50. There have been 9 ties.

[DOWNLOAD VIDEO: "2001 Monon Memory" 4124KB] For more than a decade the two schools
have worked together to stage alumni parties across the nation where graduates and friends of the colleges can gather to catch up with friends and cheer on their favorite team. Alumni telecast parties will again held in more than 40 states coast to coast. Learn more by clicking here.
DVDs of the 2003, 2002 and 2001 Bell Battles are still available. Learn more, and order online, here. Access DePauw's Monon Bell Web page by clicking here.
Back