Election Symposium at DePauw -- 'Issues for America' -- To Take Place September 16-18
July 20, 2004
Complete "Issues for America" Schedule; Register Here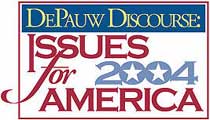 July 20, 2004, Greencastle, Ind. - "DePauw Discourse 2004: Issues for America," a three-day election issue forum hosted by the Washington C. DePauw Society, will offer the DePauw community an engaging dialogue centering on some of the most pressing matters facing the nation as the November election approaches.
The symposium will open with Ambassador L. Paul Bremer III, former presidential envoy to Iraq, who will deliver a Timothy and Sharon Ubben Lecture on September 16 at 8 p.m. in Kresge Auditorium (read more here). September 17 and 18 seminars will feature Lee Hamilton '52, former U.S. congressman and vice chair of the 9/11 Commission; civil rights leader, Pulitzer Prize-winner and political historian Roger Wilkins; and three dynamic panels of accomplished current and former public servants, journalists, and DePauw
faculty members who will define domestic issues, discuss the media's impact on the presidential campaign, and contemplate America's role in the world.
"This unique gathering of distinguished guests, alumni and faculty will provide attendees with an opportunity to explore relevant issues, participate in stimulating discourse and discover points of view not readily available through the media or our everyday lives," says Joyce Taglauer Green '75, chair of the Washington C. DePauw Society Executive Committee, which is hosting the event. "We hope Issues for America will enable alumni and other members of the DePauw family to return to campus and find meaningful participation in the intellectual life of the University."
A network radio commentator for
NPR and the Clarence J. Robinson Professor of History and American Culture at George Mason University, Roger Wilkins has had a distinguished career that has spanned government, law, philanthropy, and journalism. He has authored two books, written at least 60 book reviews and op-ed pieces for major American papers, published articles in two-dozen magazines, and conceived, written, and narrated two Frontline documentaries. He served as assistant attorney general under President Lyndon B. Johnson, and is perhaps best known for his role in exposing Watergate in the '70s -- a feat that earned him the Pulitzer Prize along with Bob Woodward, Carl Bernstein and Hal Herblock.
Lee Hamilton

, a 1952 graduate of DePauw University, served for thirty-four years as a United States Congressman from Indiana, serving as chairman and ranking member of the House Committee on Foreign Affairs. Over the past year he has again been making national and international headlines as vice chair of the commission that probed the events before, during, and after the terrorist attacks of September 11, 2001. Now director of the Woodrow Wilson International Center for Scholars in Washington, DC, Hamilton recently authored How Congress Works and Why You Should Care.
Alumni and guest panelists and moderators will also include:
Karen AbuZayd '63, deputy commissioner general, United Nations Relief & Works Agency
Ken Bode, Eugene S. Pulliam Distinguished Professor of Journalism at DePauw University
Sally Cowal '66, former US ambassador, vice president for Population Services International
Judith Edstrom '70, sector manager, The World Bank
Robert Franks '73, former US congressman, president of Healthcare Institute of New Jersey
David Greising '82, Chicago Tribune columnist
Kris Iverson '75, assistant US Secretary of Labor
Jeffrey Kenney, professor of religious studies at DePauw University
Mary Leonard '70, assistant managing editor of business news, Pittsburgh Post-Gazette
John McWethy '69, ABC News special correspondent
Mary Beth Schneider, political writer, Indianapolis Star
Robert Steele '69, Poynter Scholar, The Poynter Institute
In addition to engaging in stimulating symposium sessions, alumni and guest attendees will enjoy a weekend of musical entertainment by Tad Robinson and the Cool City Swing Band and plenty of opportunities to reconnect with friends. The weekend will conclude with a September 18 closing dinner and celebration at the Indiana History Center in Indianapolis.
Alumni and guest attendees are asked to register by September 1 by calling (800) 446-5298 or clicking here. Learn more about the event and the speakers here.
Back