Kid's Best Friend Camp to Raise Funds for Local Spay/Neuter Program for 8th Straight Year
July 22, 2004
July 22, 2004, Greencastle, Ind. - The 8th annual Kid's Best Friend Basketball Camp -- which provides funding for Putnam County's spay/neuter program -- will take place Monday thru Wednesday, July 26-28, at DePauw University's Lilly Center. The program begins at 9 each morning and continues until 12:30 p.m. each day, and lunches will be served. The camp is open to boys and girls entering kindergarten through 10th grade, and includes instruction from members of the coaching staff of DePauw's nationally-ranked women's basketball team, as well as opportunities for campers to swim and learn about responsible pet ownership.
The camp's $50 cost also includes a t-shirt. All camp proceeds support the spay/neuter program which provides a $20 discount to Putnam County pet owners who help to control the animal population. To date, 820 Putnam County pets have benefited from the program.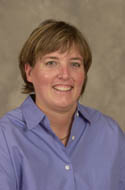 "Did you know that for every one person who is born, 15 dogs and 45 cats are also born?," asks Mary Smith, assistant women's basketball coach at DePauw. "Pet overpopulation is a major problem, as evidenced by the overcrowded animal shelters, the countless 'free puppies/kittens' ads, the numerous stories of animals being dumped, etc. The solution, spaying and neutering pets, is one that animals lovers and non-lovers should agree upon. This camp provides a terrific opportunity for young people to learn basketball skills, have fun and benefit the community."
Learn more about the Kid's Best Friend Basketball Camp by calling (765) 658-6280. Registration will take place Monday, July 26, from 8:30 to 9 a.m. in the Lilly Center gym. NCAA News published a feature on the camp in December. Read more by clicking here.
Back