Gay Marriage Amendment Would Create New Civil Right, Prof. Ken Bode Argues
July 23, 2004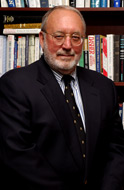 July 23, 2004, Greencastle, Ind. - "Designed as the Willie Horton wedge issue of 2004," the proposed constitutional amendment to ban gay marriage "is that rare effort in American politics to restrain and constrict rights," writes Ken Bode in today's Indianapolis Star. In his weekly opinion column, Bode, Eugene S. Pulliam Distinguished Professor of Journalism at DePauw University, continues, "In the black civil rights struggle, those who threw up barriers to freedom are the ones who began to turn the conscience of America. Our national creed does not usually favor those who wish to restrict rights, which is exactly what the Bush amendment is designed to do."
Dr. Bode, former senior political analyst for CNN states, "As President Bush dances lightly over the shards of his relations with the professional civil rights establishment, he does so as if nothing is really at stake." But the professor argues that is not the case. "In the 1970s and '80s, it took some time to understand that the demands of women to end discrimination and guarantee equal pay were actually part of the civil rights agenda. But they were. As Republicans use the gay marriage ban as a sop to the party's conservative base, the courts and public opinion are moving in the opposite direction. With his constitutional amendment banning gay marriage, Bush is putting his own stamp on America's continuing civil rights struggle. He is making gay rights the next civil

right."
Read the complete essay at College News.org.
Access other recent columns by Bode here, here, here, here, here, here, here and here.
Source: Indianapolis Star
Back