Senior All-American Graham Wellman Wins 5K Race
July 25, 2004

July 25, 2004, Greencastle, Ind. - DePauw University senior Graham Wellman "is another college runner using the 5K as a training run," writes Michigan's Flint Journal in an article noting Wellman's victory in the Tuuri 5-kilometer race Saturday. "A two-time All-American in track at Division III DePauw, he posted his first Flint-area victory by edging Eric Larsen of Fenton by six seconds," Dan Nilsen writes.
The 21-year-old Wellman tells the newspaper, "Mostly, I spend the summers getting in shape for the fall. We have a lot of goals we want to get in November."
Read the story by clicking here. Learn more about Graham Wellman here.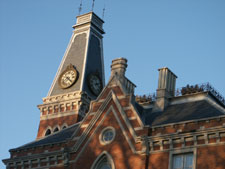 The late Dr. Arthur L. Tuuri began Tuuri Race Day -- which includes a 10K run, 5K run, 5K walk, children's challenge, and one-mile celebration walk -- in 1980 to promote physical well-being and to raise funds for pediatric care at Hurley Medical Center in Flint. More than 1,200 people participated in this year's event.
Back