Chronicle of Higher Education Writes of DePauw's New Online Music Partnership with MusicRebellion
July 27, 2004
July 27, 2004, Greencastle, Ind. - In a front page story on how colleges and universities are partnering with online music service companies, this week's Chronicle of Higher Education notes, "DePauw University has just signed [an] agreement with MusicRebellion, a company that runs a service similar to the Apple music store. The company plans to build a separate front door to its Web site for DePauw students, and that site will include educational material about copyright law and will discourage students from illegal file trading." Read the story online here(a paid subscription is required).
"All 2,300 DePauw University students will be able to download legal music through an agreement between the university and MusicRebellion.com," begins a story in today's Indianapolis Star. "Students will be charged on a per-download basis with no additional

fees. Students also may submit original music to the MusicRebellion Web site. This is the first signed university affiliate agreement for MusicRebellion, a division of Digonex Technologies." The article, which you can access by clicking here, includes a quote from Dennis Trinkle, chief information officer at DePauw and a 1991 graduate of the University.
DePauw's new partnership with MusicRebellion was formally announced yesterday. Dr. Trinkle says the agreement "will serve as a national model for how colleges and universities can address the problem of illegal downloading of music without restricting student choice. What this partnership creates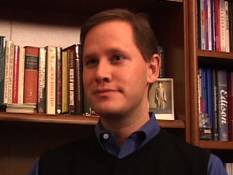 is a way for DePauw to provide a venue for students to access the music they want: legally and conveniently. And, since MusicRebellion will be donating 1% of all sales back to DePauw for student scholarships, every time students buy music, they are helping themselves."
Read more by clicking here.
Visit MusicRebellion.com online by clicking here. Access an announcement on Business Wire here. Inside Indiana Business also notes the new partnership in an article you'll find by clicking here.
Source: Chronicle of Higher Education
Back