Inc. Tells Entrepreneurial Success Story of Darlene Montgomery Ryan '76
July 28, 2004
July 28, 2004, Greencastle, Ind. - "Darlene [Montgomery] Ryan says she never really wanted to be the boss. She never dreamed the entrepreneurial dream," begins a lengthy profile of the president and CEO of PharmaFab and 1976 graduate of DePauw University, published in the August 2004 issue of Inc. magazine. "She was a lifer at Arthur Andersen, a pioneer female tax partner who found herself increasingly dispirited by the shenanigans she saw in the world of corporate accounting. Then there was her young son Kevin. Darlene, who ran major Asian accounts from San Diego, spent half her time winging across the Pacific and rarely saw him. So when her father, Ken, and her brother Bruce invited her to join the small pharmaceutical business they were starting in Texas, she decided to take the plunge."
Jonathan Black writes, "Ten years later, on the day I fly to Texas, the Fort Worth City Council is celebrating Darlene Ryan Day. The council chamber is packed. The mayor, Mike Moncrief, a Dabney Coleman look-alike, reads from the plaque: 'Whereas PharmaFab was the fastest growing private company in the Dallas-Fort Worth area between 2001 and 2003...

Whereas the 286% sales growth... Whereas...' He concludes the proclamation by asserting, 'Darlene Ryan, you're a shining star in our crown!' The metaphor is apt, perhaps more than the mayor knows. While from a distance, a star inspires a sense of celestial peace, we all know that, up close, the process that makes it shine is brutally dynamic. The last decade has been like that for Darlene Ryan ... [as] she built PharmaFab into a business with an estimated $40 million in annual sales (without a single salesperson, I might add)."
The article, titled "Always the optimist," tells of the professional and personal challenges Ryan has faced, including the death of her father and serious illnesses in her husband and son. You can read it online at the magazine's Web site by clicking here.
In May, Darlene Ryan, who serves on DePauw's Board of Trustees,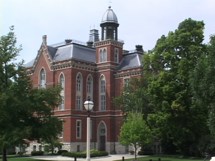 was honored at the Leading Women Entrepreneurs of the World® gala international awards ceremony in Sydney, Australia (read more here).
PharmaFab, a contract pharmaceuticals formulator and manufacturer, was co-founded in 1994 by Ms. Ryan, her brother, and father and has been recognized as one of the Inc. 500 "Fastest Growing Private Companies" three years in a row. Ryan has also been honored by Ernst & Young as an Entrepreneur of the Year for North Texas, Oklahoma, and Arkansas in the Life Sciences category. Visit PharmaFab online by clicking here.
Back