Andrew Buroker '84 Elected American Heart Association's National Secretary-Treasurer
July 28, 2004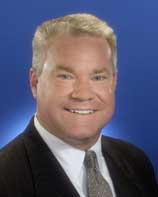 July 28, 2004, Greencastle, Ind. - Andrew B. Buroker, a partner in the law firm of Krieg DeVault LLP and a 1984 graduate of DePauw University, has been elected national secretary-treasurer of the American Heart Association. Buroker was elected by the Association's delegate assembly during its annual Volunteer Leadership Conference in Washington, D.C.
Andy Buroker also serves as chairman of the AHA's corporate operations coordinating committee and as a member of the scientific publishing committee. He is also a board member of the Association's Greater Midwest Affiliate and recently served as chairman of the national advocacy coordinating committee. He has been a member of the AHA national board of directors and the national administrative cabinet since 2002.
In April of 2000, Buroker was listed among the Indianapolis Business Journal's "40 under Forty" young leaders in Indianapolis, and received the Mayor's Community Service Award from Indianapolis Mayor Bart Peterson in 2002.

After graduating from DePauw, he received his law degree from the Indiana University School of Law in Bloomington. Before his current role at Krieg DeVault LLP, Andrew Buroker worked for U.S. Senator Dan Quayle (R-Ind.) as executive political assistant, deputy finance director and field representative. In October 2001, he was admitted to the Supreme Court of the United States as a bar member. Buroker is chairman of Krieg DeVault's Real Estate and Environmental practice group.
Learn more about Andy Buroker by clicking here.
Back