Despite Appearances, Is President Bush Planning an "August Surprise?," Prof. Ken Bode Asks
July 30, 2004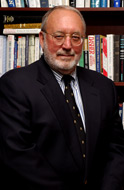 July 30, 2004, Greencastle, Ind. - At this week's Democratic National Convention in Boston, "the ghost in the FleetCenter has been Dick Cheney," writes Ken Bode in today's Indianapolis Star. In his weekly opinion column, Dr. Bode, Eugene S. Pulliam Distinguished Professor of Journalism, continues, "National conventions are great gatherings of poll readers, and the Democrats in Boston know that national polls show Cheney to be a drag on the ticket. A CBS-New York Times poll last month showed Cheney with an approval rating of 22 percent, among Republicans only 48 percent. Americans are suffering a steady erosion of confidence that the course of events in Iraq is going well, and Cheney remains the chief cheerleader for that war. Thus, the chorus of assurances that Cheney's place on the ticket is safe must be taken with a grain of salt."
Bode begins the essay by noting that Cheney has been out campaigning for his administration while Democrats were gathered in Boston. But the "an August surprise. Cheney has finally fired his longtime doctor for failing to overcome an addiction to painkillers. So, the way the Ouiji boards in Boston have it, Cheney goes in for a fresh medical check-up and learns that a rough campaign and a second term would be harmful to his health. Regrettably, he tells the president, the party must select someone else."
While pundits might point to Gen. Colin Powell or Sen. John McCain, Bode argues, "A far more interesting choice would be former New Jersey Gov. Tom Kean, chair of the 9/11 commission, whose stature today is as high as any politician in America. Kean is an experienced campaigner with an excellent record for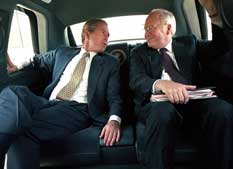 bipartisanship and a proven ability to attract black votes. Sliding Cheney out the door and picking Kean would provide the administration reason and cause to remodel its stance on national security. It might also assure George W. Bush a second term."
Read the entire text at College News.org.
Access other recent columns by Ken Bode here, here, here, here, here, here, here and here.
Source: Indianapolis Star
Back