New Exhibit Features Works of Best-Selling Author John Jakes '53
August 2, 2004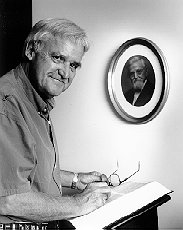 August 2, 2004, Greencastle, Ind. - "The Coastal Discovery Museum has partnered with the Island Writers' Network to produce an exhibit called, 'Write On! Authors of the Lowcountry,'" writes South Carolina's Morning News. The story notes that one of the featured authors is John Jakes, a 1953 DePauw University graduate who has authored sixteen consecutive bestselling novels, including On Secret Service, Homeland, the North and South trilogy, and Charleston.
Learn more about "Write On!" by clicking here.
John Jakes has been called "the godfather of the historical novel," and the New York Times noted, "He is quite simply, a master of the ancient art of storytelling." Read more about the author here.
Back