Newsday and Arizona Republic Join Chorus of Praise for New Book by Cathy Day '91
August 3, 2004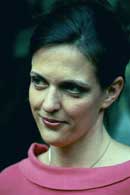 August 3, 2004, Greencastle, Ind. - 1991 DePauw University graduate Cathy Day "began her research for The Circus in Winter in college when a writing instructor [Professor Thomas Chiarella] suggested she look homeward -- to 'that weird circus town' -- for material. And she found plenty," notes a positive review of Day's new book published in New York's Newsday. Day -- a native of Peru, Indiana, a circus town -- tells the newspaper, "I think I really did start writing the book initially as a way to write about why I hated growing up there. I felt miserable most of the time growing up. I think most people, especially artists, do." Newsday's Liz Brown writes, "She sat down with the archivists at Peru's International Circus Hall of Fame and other museums, poring over news clippings, route books and photographs, some of which appear in the book. What emerged 13 years later is hardly a virulent rejection of Day's hometown."
Day, assistant professor of English at the College of New Jersey, adds, "One of the happy accidents of having taken so long to write the book is that I grew up during that time, became an adult." Brown calls The Circus in Winter, "a tender, bittersweet homage to a vanished time and to the ways that our lives are touched again and again by the past." Read the complete text by clicking here.
Another glowing review published in the Arizona Republic asserts, "Cathy Day writes about the Greater Porter Circus with such confidence and panache that it's difficult to believe this is her first book. The dust jacket bears the simple word 'fiction,' which is more accurate than calling it a collection of stories, because these read like the chapters of a novel, sharing characters and location. Day begins by telling us how a grief-stricken former Union cavalry officer named Wallace Porter acquires his circus in the 1880s and makes the Indiana town of Lima its winter home for more than 50 years. We meet the exotic performers who wait for each new season. We watch them age and we see their descendants grow restless in their more ordinary lives. It's a colorful, unsentimental and impressive debut." Read more here.
Cathy Day's book also received recent praise from the New York Times (read more here), while New Jersey's Princeton Packet described the work's DePauw origins (read more here).
Back