Prof. Ken Bode Writes of Uncertainty Created by Terror Alerts
August 6, 2004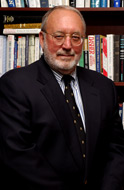 August 6, 2004, Greencastle, Ind. - "You watch these things much more carefully if you have a daughter who is an intern at the New York Stock Exchange or the IMF or one of the other buildings designated as targets for car or truck bombs or where terrorists might poison the air inside with chemical or biological weapons," Ken Bode writes of the latest terror alert issued just days ago. "But it is very hard to know what to know. As soon as President Bush made his Rose Garden announcement -- flanked by the secretaries of State, Defense and Homeland Security and the Attorney General -- Mayor Anthony Williams went on television and dined out to assure residents that Washington is a safe city."
In an op-ed column in today's Indianapolis Star, Bode, Eugene S. Pulliam Distinguished Visiting Professor of Journalism at DePauw University, continues, "On the other hand, the Capitol, which is on no current target list, is now ringed by a huge security perimeter with 14 checkpoints for cars and trucks. Pedestrians entering the grounds, not just the

buildings, are frisked. At the Statue of Liberty, which reopened to the public this week, a new security device blows air through visitors' clothing to flush out bomb-making residue."
The former senior political analyst for CNN writes of listening this week to a radio interview with a college intern at the World Bank in Washington. The student described the gauntlet of security she faced when she reported for duty Monday, the day after the most recent terror alert was issued. In summary, Dr. Bode states, "It is hard to know what to know and even hard to know what to think. However, I do know

what I am going to do. My daughter works in Washington making documentaries for the History Channel. Next week I am going there to take her to lunch."
Read the complete essay by clicking here.
Read other recent columns by Ken Bode here, here, here, here, here, here, here and here.
Source: Indianapolis Star
Back