New Coach Bill Lynch Optimistic as 2004 Football Season Approaches
August 6, 2004
Also: 2004 Monon Bell on DirecTV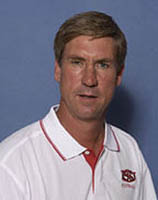 August 6, 2004, Greencastle, Ind. - "I can't wait for our guys to get here," DePauw University's new head football coach, Bill Lynch, told the Greencastle Kiwanis Club yesterday. The Banner-Graphic of Greencastle reported on the speech. Players report for their first practice a week from tomorrow, and the season begins September 4 at Rhodes College. Thirty-eight players return from last year's 5-5 squad. "I think we can be a pretty good football team. We have some good players," Lynch adds.
Bill Lynch served as head coach at Division I Ball State University from 1995-2002 and previously led Butler University's gridiron program. Jason Moon notes, "In his 13 years, he has a 73-65-3 record. He also served as an assistant coach at Butler, Ball State, Northern Illinois and
Indiana in addition to the Orlando Renegades of the now-defunct United States Football League."
"Sitting out last year made me realize how fun it was," Lynch said. "As a coach, when August comes, you're ready to coach football. When I sat out last year, I knew I had to get back in it." He inherits the Tiger football program from Nick Mourouzis, who retired last fall with a 138-87-4 record over 23 seasons. "It's a tough task to follow coach Nick," Lynch told the Kiwanis members. "I knew it was going to be tough. I found out it was going to be tougher because of the respect he has. (Coach Mourouzis) has been a great help." Both men are 2004 inductees into

the Indiana Football Hall of Fame (read more here).
Moon writes, "Lynch said he has three objectives for his players and the most important is getting a degree. 'The top priority has to be to earn a degree,' he said. He also wants his players to 'represent the university in a first-class manner,' and to win championships."
Read the complete article at the newspaper's Web site by clicking here. Get the latest news on DePauw's football program here.
Back