Incoming Tennis Player Spends Summer Teaching Sport to the Disabled
August 7, 2004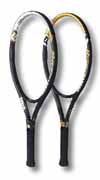 August 7, 2004, Greencastle, Ind. - Erin Andrade, a graduate of Noblesville (Indiana) High School, "who will play tennis at DePauw University," is profiled in an Indianapolis Star article. The story examines the growing popularity of the sport of tennis among people who use wheelchairs. Andrade spent this summer as an instructor for the Washington Township Schools Tennis Program, "which for the first time this summer is partnering with Rehabilitation Hospital of Indiana to offer 10 weeks of wheelchair tennis classes."
"What's great is seeing them grow, and seeing that what I've taught them is sticking with them and they're actually getting it," Andrade tells the newspaper. Kristen Leigh Porter writes, "Andrade and another instructor were sent to Las Vegas for a clinic about how to teach wheelchair tennis and develop junior players. She already knew a lot of the stroke patterns, so the training consisted most of learning about rules and mobility issues. The former Number 1 singles player at Noblesville High School also experienced firsthand

what it is like to sit in a wheelchair and play tennis."
It continues, "Andrade said teaching a class for the first time was 'a little scary,' but she learned as much as she taught ... 'I really enjoy the teaching aspect,' Andrade said."
Read the complete story by clicking here. Learn more about DePauw's women's tennis team here.
Back