Young Political Candidate Eric Wolfe '04 Profiled in Indianapolis Star
August 8, 2004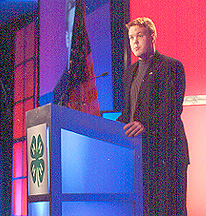 August 8, 2004, Greencastle, Ind. - "Eric Wolfe, 22, graduated from DePauw University in May and is running as a Democrat for the District 44 seat in the Indiana House. Wolfe says he has a good grasp of issues facing young voters because he faces them, too," reads a caption under a photo of Wolfe published in today's Indianapolis Star. Wolfe is one of several young candidates, lawmakers and aides featured in an article on the front page of the City & State section, headlined, "Young Hoosiers take political reins."
Matthew Tully writes, "Eric Wolfe, of Greencastle, a 22-year-old Democrat ... is the youngest candidate for the Indiana House this year." The reporter states, "Wolfe might not have much of a chance this year, as he is running in the Republican-leaning District 44 against incumbent Andrew Thomas. But he is on the campaign trail almost every day. 'I am looking at this from a real-world perspective,' said Wolfe, who graduated from DePauw University in May. 'A lot of legislators are already established and maybe don't (relate to) the problems of raising kids and building a career.'"
Read the story in its entirety and see the color photo of the 2004 graduate by clicking here.
Eric Wolfe's candidacy has been written about in two other articles, accessible here and here.
Back