Freshman's Dedication to Community Service Noted in Newspaper Article
August 9, 2004
August 9, 2004, Greencastle, Ind. - "The proven method of learning by doing is working for members of the Cedar Lake Youth Council, who have been getting civics lessons and an appreciation for community volunteerism in the past two years," begins a story in today's Times of Munster, Indiana. "Ryan May, a 19-year-old who will be leaving soon for DePauw University in Greencastle, Indiana, has been a council member since its inception and is the immediate past president ... A younger version of Cedar Lake's Town Council, the Youth Council has nine voting seats, one from each precinct and one each from Center and Hanover townships outside the town limits. May said those involved have a greater interest in serving the youth of their community than being involved in politics, but he conceded that understanding the political process has served the Youth Council members well, especially those who turned 18 and voted for the first time."
Melanie Csepiga writes, "Since it was established, the Youth Council has not only hosted the candidates' night, but also conducted roadside cleanups and hosted Saturday night Movies in the Park. 'We're planning to paint two viaducts on Lake Shore Drive, and we're trying to work on a mural at Wilco's (on the exterior, east wall),' May said as he spread out the mural's preliminary design that would incorporate the lake, Monon Railroad, and children's handprints. 'With each Youth Council, they may change their focus.'"
The article, which includes a color photo of Ryan May, quotes local councilman Robert Carnahan, a Youth Council sponsor.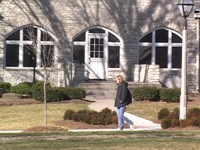 "It's been very successful. The problem now is to get new kids coming in with the same energy as those leaving, like Ryan."
Read the complete text at the newspaper's Web site by clicking here.
May was recently named "Teen of the Year" by the Cedar Lake Summerfest Committee and received the Sandy Nininger Award, the highest individual Key Club recognition. Read more here.
Back