DePauw Attractive to Valedictorians, Indianapolis Star Writes
August 15, 2004
August 15, 2004, Greencastle, Ind. - Ten valedictorians from Indiana high schools are enrolled to attend DePauw University this fall -- the fourth highest total among all Indiana colleges and universities, the Indianapolis Star reports. Impressively, DePauw's yield of incoming valedictorians (10 in a total undergraduate enrollment of 2,300 students, or 1 per 230) is much higher than the institutions that are listed one through three. Purdue University, ranked #1 with 32 incoming Indiana valedictorians, has a total undergraduate enrollment of 30,800, making the yield 1 per 962. The returns for #2 Indiana University (1 per 1,628) and #3 Butler University (1 per 292) also trail DePauw.
"Some private colleges are kicking in more scholarship money" to keep Indiana students in-state, the Star's Staci Hupp writes. "Samuel Rund, this year's Beech Grove High School valedictorian, will pay public-school prices at DePauw University in Greencastle,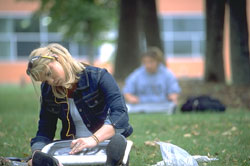 where tuition and fees run more than $25,000 a year. 'Some of my family members pushed me to go to some of the out-of-state colleges, but with such a great campus, a great reputation and with it being close to home, why leave?' said Rund, who had a 4.1 grade-point average."
Access the complete story, which appears on the newspaper's front page today, by clicking here. DePauw will welcome 682 new students to campus Saturday, August 21. Read more about the incoming class here.
Back