The Genesis Group Selects DePauw and U. of Kentucky to Launch its 'Program For Change'
August 16, 2004
August 16, 2004, Greencastle, Ind. - The Genesis Group -- a coalition of 46 national and international fraternities and sororities dedicated to finding solutions to the persistent problem of binge drinking among college students -- has chosen DePauw University as one of two test sites for its Program For Change. At DePauw and at the University of Kentucky, the Genesis Group will work with student leaders and administrations to develop and execute a long-term program to change student alcohol culture.
"This is an effort that began two years ago with a determination among the leaders of the Greek movement that while we are part of the alcohol problem on college campuses, we will part of the solution," says Norval Stephens, co-chair of the Genesis Group, chair of the Delta Tau Delta Educational Foundation, and a 1951 graduate of DePauw. "We are delighted to be able to partner with DePauw,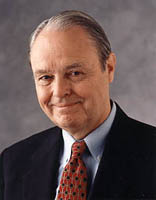 recognized as a leading liberal arts university, and Kentucky, an outstanding public university. This is not a one-shot effort. We expect to craft with each campus a five-year plan to reduce significantly high-risk alcohol use," he adds.
"This is a perfect complement to our efforts to build a responsible community at DePauw," says the University's president, Robert G. Bottoms. In the spring of 2003, Dr. Bottoms created the Coalition for a Responsible Community, an effort that involved all DePauw constituents -- students, faculty, alumni and administrators -- to address alcohol abuse and related at-risk behaviors (read more here). The coalition's three task forces were given the charges of developing a student covenant; creating a set of rules defining the relationship between the University and the Greek community; and examining ways to support leadership among all student groups on campus. This fall, all incoming DePauw students will be asked to sign the Community Covenant that was created
after more than a year of on campus discussions and deliberations (read more here).
"Alcohol abuse is a problem at campuses nationwide," President Bottoms notes. "I'm proud that DePauw is being proactive in addressing this issue in a student-led initiative, and I'm very pleased that Norval Stephens -- a loyal alumnus and lifetime member of our Board of Trustees -- is part of this effort to improve our campus community."
Recent studies show that 44 percent of college students binge drink at least bi-weekly and blame drinking by college students for 1,400 deaths, 500,000 injuries, 600,000 assaults and more than 70,000 sexual assaults among students. The Genesis Group believes the issue of high-risk drinking on college campuses must be attacked comprehensively, persuasively and persistently. Its Program For Change is based on the experience of Greek organizations, recommendations of those institutes that research the problem, and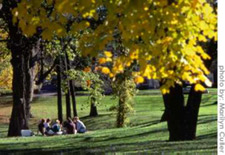 the advice of experts in alcohol abuse. The Program For Change is a blueprint to address this cultural problem.
Stephens says an initial meeting will be held on both the DePauw and UK campuses soon and will be open to all students -- Greeks and independents. "This is not a we/they plan," he says, adding that all of DePauw's fraternities and sororities are committed to working with the Genesis Group. "It's important that everyone has a voice in this process." Stephens says the Program For Change's goal is, "to see, at the end of five years, a significant reduction in the abuse of alcohol and replacing alcohol as a major socializing instrument."
The Program For Change is composed of three fundamental elements: presidential leadership, student involvement and a long-range plan. Programming elements include a student code of conduct, campus coalition for change,
review of the judicial process, attitude change programming, a community coalition, increased social options, leadership education, specific Greek programming, admissions programming, security enhancements, campus health services, and research feedback.
"This is a deep and pervasive societal problem, but based on our experiences in the Greek system, we are confident that we can be a force for positive cultural change. Fraternities and sororities are part of the problem, and I believe we can be a large part of the solution," Stephens states. "This will be a long haul, but, as the Chinese proverb says: 'Every journey begins with the one step.'"
Read more about the Genesis Group in this previous story.
Back