The Best 357 Colleges: 2005 Edition Gives DePauw High Marks
August 16, 2004
Also: DePauw Again Among USA's 331 Most Interesting Colleges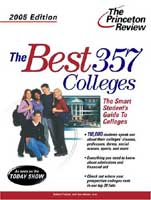 August 16, 2004, Greencastle, Ind. - DePauw University's campus activities, social climate and student-run radio station are among the nation's best, according to Princeton Review's annual publication, The Best 357 Colleges: 2005 Edition, which arrives in bookstores tomorrow. The unscientific, random survey of more than 110,000 students at the nation's top colleges ranks DePauw as #1 in "major frat and sorority scene"; it lists WGRE as the #6 college radio station in the country; and DePauw is #12 for "more to do on campus".
The guide also notes that DePauw is highly selective in admitting students, and gives DePauw an academic rating of 97 (based, according to the Review, on "how hard students work at each school and how much they get back from their efforts"; rated on a scale of 60-100 with 100 being best). By comparison, Massachusetts Institute of Technology, ranked "toughest to get into" in this year's book, has a 94 score.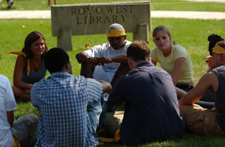 DePauw earns a financial aid rating of 98, a 97 for the strength of its admissions, and a quality of life score of 90.
Princeton Review, which is not affiliated with Princeton University or ETS, has conducted the survey each year since 1992. "All of the colleges in this book are academically outstanding," says Robert Franek, the book's lead author. "We report ranking lists in many categories to help college applicants and their parents decide which of these very different, but all great colleges is best for them."
DePauw offers students "value through a liberal arts experience firmly grounded in reality by generous opportunities to travel, study, and/or work abroad as a student," the
two-page summary of the University states. "These opportunities include the highly praised Management Fellows Program, which 'provides liberal arts students the business tools they need for the corporate world. It [also gives students] a phenomenal internship opportunity' that allows them to work from four to eight months and gain real work experience, earn money, and earn college credits."
The editors call DePauw's Winter Term a "unique academic offering," note the technology initiatives that have been launched, and write of the rigors of the curriculum. "Undergraduates get to learn hands-on almost from the moment they arrive. Explains one student, 'For the science students, it's all about research from their first semester on campus.' All students at DePauw
must complete 'a strong liberal education with a challenging, heavy workload' administered by professors who enforce 'an expectation of high academic standards.' Students tell us that 'classes are small and discussion based. You also get access to the best professors starting your freshman year.'"
The survey finds that students also say DePauw's "lab facilities are great"; give very high marks to the computer facilities on campus; and report that "students are friendly," the "campus seems safe," and "college radio and publications are popular." Read more about The Best 357 Colleges: 2005 Edition at Amazon.com and Barnes & Noble.com.
For five consecutive years, U.S. News & World Report has ranked DePauw University in the top tier of America's national liberal arts colleges. The magazine also cites DePauw's first-year experience -- depauw.year1 -- as a "program to look for," and ranks DePauw among the nation's leaders in the percentage of students who study abroad (60%), as having one of the highest percentages of students receiving merit aid (45%), and for its strong Greek system.
Read more by clicking here.
The 2005 edition of the Unofficial, Unbiased Guide to the 331 Most Interesting Colleges, which was published last month, ranks DePauw #4 in the nation in the percentage of full-time undergraduates receiving merit-based financial aid (45%), and #2 in average amount received per student ($12,134). The book -- published by Simon & Schuster and sponsored by the test-preparation company Kaplan, Inc. -- also ranks DePauw's fraternity and sorority system as the second strongest in the USA (Washington and Lee University is #1, one percentage point ahead of DePauw). Read more by clicking here.
Back