Hollywood Reporter Quotes Activision Publishing President Kathy Patterson Vrabeck '85
August 18, 2004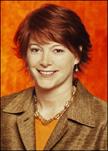 Wednesday, August 18, 2004, Greencastle, Ind. - A Hollywood Reporter article on the large amounts of money being spent to market video games quotes a 1985 DePauw University graduate who leads one of the industry's major players. "If I look at the top games from 2003, the average budget for each is in the $6 (million)-$7 million range just for television," Kathy Vrabeck, president of Activision Publishing, says. "What we're seeing increasingly is (that) the top 50 or 60 titles are accounting for the lion's share of the business -- so if your goal is to get a product into the top 50, you have to spend that kind of money."
Vrabeck later adds, "the two big areas we focus on are television and trade, the money you spend with retailers to buy ads in the Sunday circulars and to pay for in-store display units. As big a category as this is, we need to be merchandising that way in-store. You know what every mass-merchant store looks like the day of a big DVD release? We're trying to get retailers to react this way to a big game launch."
Read the article by clicking here.
Learn more about Kathy Vrabeck in this previous story. Access a March 2004 Inside Indiana Business video interview with Vrabeck here. "I've really, as I've gotten older, learned to value my liberal arts education," she told the statewide television program.
Headquartered in Santa Monica, California, Activision, Inc. is a leading worldwide developer, publisher and distributor of interactive entertainment and leisure products. Founded in 1979, Activision posted net revenues of $948 million for the fiscal year ended March 31, 2004. Visit the company's Web site by clicking here.
Back