NPR Affiliate Interviews Norval Stephens '51 on Genesis Group's Partnership with DePauw
August 18, 2004
Wednesday, August 18, 2004, Greencastle, Ind. - "DePauw University has been chosen as one of two test campuses for a national campaign to decrease college binge-drinking," begins a story airing today on Bloomington, Indiana National Public Radio affiliate WFIU. "The campaign, called the Program For Change, was created by the Genesis Group, a coalition of 46 fraternities and sororities who joined together to fight student alcohol consumption."
It continues, "Genesis Group co-chair Norval Stephens says that because the Greek system is so often part of the problem with high-risk drinking, it's important for them to be part of the solution. Stephens is also the chair of the Delta Tau Delta Educational Foundation. He says that it's important for the program to be tailored to the individual campuses that use it, and this requires a lot of communication."
The station interviewed Stephens, a 1951 graduate of DePauw and a life member of the University's Board of Trustees, by telephone. He says,
[DOWNLOAD AUDIO: "The Program For Change" 398KB] "It must have the support and the leadership of the president or the chancellor of the University. There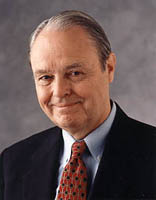 must be significant student involvement in the planning, writing, creating and carrying out of the program. And finally, this must be looked at initially as at least a five year plan -- in other words, there has to be at least a college generation that goes through it." The radio station's report adds, "Stephens says that universities need to establish clear policies for on-campus alcohol consumption."
Read more about the Genesis Group's choice of DePauw by clicking here. The announcement was also noted in yesterday's Indianapolis Star (read more here). Visit WFIU online here. Learn more about the Coalition for a Responsibile Community, an effort that involves all DePauw constituents -- students, faculty, alumni and administrators -- to address alcohol abuse and related at-risk behaviors, here.
Back