Two Music Professors Will Lend Talents to Local Fundraiser
August 19, 2004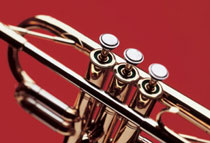 August 19, 2004, Greencastle, Ind. - Two members of the DePauw University School of music faculty will lend their talents to a Greencastle fundraiser. A concert to benefit the Family, Youth and Community Development Program will feature the Marvin Chandler Trio as well as "local musicians Randy Salman on saxophone and clarinet, and Lennie Foy on trumpet. Both are professors with DePauw University," Greencastle's Banner-Graphic reports.
The event will take place at 5:30 p.m. Sunday, September 5 at the FYCDP Center, located at 605 Crown Street.
Read the article online by clicking here.
DePauw donated the community center to the FYCDP over the summer. Read more here.
Back