Enjoy Tours of New DePauw Nature Park and Free Football on 'Community Day,' September 11
August 23, 2004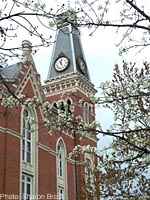 August 23, 2004, Greencastle, Ind. - People can receive guided tours of the new DePauw University Nature Park and enjoy a free football game on Saturday, September 11, "Community Day" at DePauw. The fun begins at 11 a.m. with a brief opening ceremony at the Nature Park. When it concludes, visitors can explore the ten miles of trails on their own (brochures with maps will be provided) or join students who will lead short hikes. Visitors to the Nature Park will receive bottles of water and other gifts. At 1:30, DePauw opens its home football season against the University of Wisconsin-Stout with new head coach Bill Lynch. Halftime festivities will include a remembrance of the third anniversary of the terror attacks of September 11, 2001.
"Each year, this is one of the ways we say 'thank you' to our Putnam County neighbors," DePauw President Robert G. Bottoms says. Community Day 2004 takes place one year and one day after plans for the Nature Park were announced (read more here). "I know that many people in the area are excited to explore the grounds and see what we've been able to accomplish. The trails are completed and marked and the vision for what this park will become continues to take shape. It's a major asset to the University and community, and something we can celebrate together."
The DePauw Nature Park comprises approximately 480-acres of land just west of campus. It will feature four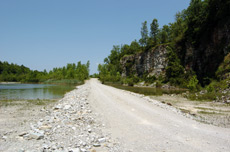 trails for walking, jogging, hiking and biking; arboretums; a canoe launch; and outdoor classrooms. Potentially at a later time, amenities could be added, including a welcome center and an outdoor classroom facility. A generous gift of land by Hanson Aggregates, which mined a limestone quarry on the site for years, made the park possible.
Read more about the DePauw Nature Park by clicking here. Get the latest information on DePauw's football program here.
Back