9/11 Commission Vice Chair Lee Hamilton '52 Commends FBI for "Correcting Missteps"
August 20, 2004
August 20, 2004, Greencastle, Ind. - "The FBI came in for heavy criticism after the 9/11 attacks, but now, the vice chairman of the 9/11 Commission is giving it high marks," begins an Associated Press story that focuses on the remarks of 1952 DePauw University graduate Lee Hamilton. In testimony yesterday, Hamilton, a former congressman, "told the Senate Judiciary Committee the FBI has done a tremendous job correcting the missteps that may have contributed to a failure to detect the hijacking plot ahead of time. Because of that, Hamilton says the commission decided not to recommend creation of a new domestic intelligence agency -- something along the lines of Britain's M-I-Five. Hamilton says there were also concerns about civil liberties and personal privacy, and lastly, there was the question of temperament. Hamilton says 'even the Brits didn't think an M-I-Five was a good idea for the United States.' He says 'the two countries are so very, very different.'"
You can read the story by clicking here.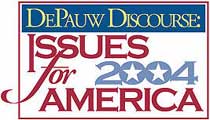 Lee Hamilton presented the 9/11 Commission's final report to President Bush at the White House on July 22 (read more here). Next month, he'll return to his alma mater to speak at the three-day election issue forum, "DePauw Discourse 2004: Issues for America." Learn more about the event, which will feature a number of national leaders and a Timothy and Sharon Ubben Lecture by Ambassador L. Paul Bremer III, former presidential envoy to Iraq, by clicking here.
Back