"Aspire to Excellence, Build Community and Serve Others," President Bottoms Says As He Welcomes 682 New Students to DePauw
August 21, 2004
Also: Read More About the Class of 2008
August 21, 2004, Greencastle, Ind. -

[DOWNLOAD VIDEO: "Our Hope for You" 1085KB] "In your four years here, our hope for you is that you will learn as a member of this community to aspire to excellence, to be filled with gratitude for the opportunities we afford you, to make friends and build community, and to learn to serve others."
At 8 a.m., the incoming class -- one of the largest in DePauw's recent history -- began moving into residence halls across campus. The entering class comes from 37 states and 10 foreign countries, including Ghana, China, Turkey, France, Japan and Ukraine. Their median unweighted high school grade point average is 3.69, the median class rank of the incoming students is the top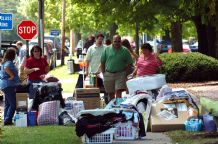 10% of their high schools, 45 were valedictorians or salutatorians, 17% are first-generation college students and 25% have alumni ties: parents, siblings or other relatives who attended DePauw. Read more about the Class of 2008 by clicking here.
At 3 p.m., after a day of moving and unpacking and making new friends, the new students and their parents gathered in Kresge Auditorium of the Performing Arts Center for a welcoming address from DePauw's 18th president, who begins his 19th year leading the University.
Dr. Bottoms told the audience of the work of the Coalition for a Responsible Community, an effort that involved all DePauw constituents -- students, faculty, alumni and administrators -- to address alcohol abuse and
related at-risk behaviors (read more here). The group's work resulted in a community covenant for DePauw: a set of expectations for members of the University community, which all students will be asked to sign (read the covenant by clicking here).
The president discussed the four "pillars" of the covenant, beginning with "intellectual engagement" and its affirmation that DePauw values academic excellence, "which is what this institution is all about," Bottoms asserted. However, the president told students that academic excellence is more than working hard and getting solid grades; it involves asking questions, viewing issues from a number of perspectives, and being aware of what's happening not just in the United States, but around the world.
The recent controversies over plagiarism in the New York Times, and questions that have been raised about filmmaker Michael Moore's
presentation of the information he presents in Fahrenheit 9/11, suggest that it's a time for all of us to be careful consumers of information, the president said.

[Download Audio: "Academic Excellence" - 295kb]"So when we talk about academic excellence, we're talking about a kind of understanding that goes beyond the classroom. It refers to developing the analytical skill you'll need to lead your life outside of the classroom. Skill with a historical perspective and a cultural understanding to know when we're not being told the truth."
The covenant states that DePauw students also enjoy unique opportunities: among them, to learn from a high-quality faculty in state-of-the-art buildings.

[Download Audio: "Fortunate" - 220kb]"We have a great respect for all those thousands of alumni who made these facilities possible," Dr. Bottoms noted. "How lucky and how fortunate you are. I hope you feel fortunate today. We had over 3,500 applications and you were chosen."
DePauw students are called upon to create and nurture supportive relationships by the covenant. "The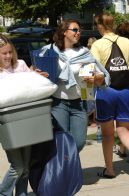 admissions office assures us that there's not one person in this class without some special gift," the president stated.

[DOWNLOAD VIDEO: "Building One Community" 498KB] "Let's be glad we are not all alike, but let's learn to be supportive of one another and work, out of all the different backgrounds, to build one community."
Finally, President Bottoms spoke of the importance of community engagement, and quoted the U.S. Constitution: "We hold these truths to be self-evident, that all men are created equal, that they are endowed by their Creator with certain unalienable Rights, that among these are Life, Liberty, and the pursuit of Happiness."

[Download Audio: "The Pursuit of Happiness" - 673kb] "Even if you have the most superficial reading of this most famous document you're aware that our founding fathers did not view the pursuit of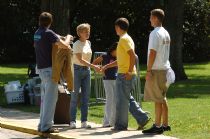 happiness in terms of just you being able to get what you want -- sort of an unlimited charge card at Wal-Mart," said Bottoms. "The history of our country is that America has been at our best when we as citizens have truly imagined a better world. And that's one of the reasons we're glad to welcome so many new young people into our presence. Because, at your age, can't you really imagine a better world? Isn't that what you want? And are you willing to use the talents we offer to nurture to make that world better?"
The first day of classes for the 2004-05 academic year is Wednesday, August 25.
Back