NPR Affiliate Examines DePauw's Place Among The Best Colleges
August 23, 2004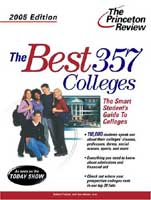 August 23, 2004, Greencastle, Ind. - DePauw University received "high rankings for academics, Greek life, and activities available on campus, in Princeton Review's annual publication, The Best 357 Colleges: 2005 Edition, notes a story that aired on Bloomington, Indiana-based National Public Radio affiliate WFIU. The news item included an interview with Neal B. Abraham, executive vice president of the University, who, the station's report noted, says "DePauw's high academic ranking [97 out of a possible 100] can be attributed to the school's small classes sizes and good student-faculty ratio ... now 10 to one."
[Download Audio: "Rewarding Response" - 364kb] "Students report their actual experiences" in the book, Abraham tells the station, "and it's really rewarding for us to see that the students who responded are very, very satisfied with the growth that takes place during their four years here and the learning that takes place in the classroom. It's a credit to their investment, their engagement, and their learning and to the faculty members that are investing time with
them."
The report added, "Greek life is a strong part of the college experience for DePauw students, and about two-thirds of upperclassmen are in the Greek system. DePauw was also recognized for its' study abroad programs and internships. Abraham says over 80% of their students take part in study abroad."
Read an extensive story on the Princeton Review's 2005 rankings by clicking here. Visit WFIU online here.

U.S. News & World Report's 2005 rankings, released late last week, show DePauw University in the top tier of America's national liberal arts colleges for the fifth consecutive year. Learn more by clicking here.
Source: WFIU (Bloomington, Ind.)
Back