Classes Begin; 2004-05 Academic Year is Under Way
August 25, 2004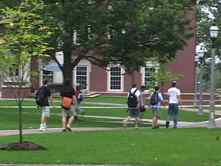 August 25, 2004, Greencastle, Ind. - Hustle and bustle has replaced the calm of summer on the DePauw University campus as the 2004-05 academic year officially began this morning with the first classes. The total student body of 2,380 students is larger than usual, because of a bigger-than-expected incoming class of 682, and a larger-than-usual junior class.
"This is always among my favorite days of the year," says DePauw President Robert G. Bottoms. "As new students begin their college careers, DePauw's historic traditions are being carried forward. Each year at this time, for over 160 years, the DePauw family has watched with pride as its newest members marched to their first college classes with books under their arms and purpose in their steps. It's a sight I still enjoy," says Dr. Bottoms, who begins his 19th year as DePauw's president.
Members of the Class of 2008 come from 37 states and 10 foreign countries, including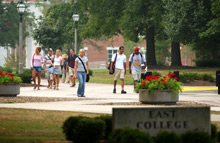 Ghana, China, Turkey, France, Japan and Ukraine. Their median unweighted high school grade point average is 3.69, the median class rank of the incoming students is the top 10% of their high schools, 45 were valedictorians or salutatorians, 17% are first-generation college students and 25% have alumni ties: parents, siblings or other relatives who attended DePauw (read more here).
First-year students arrived Saturday, and were welcomed to the University by Dr. Bottoms. At the opening convocation, he said,

[Download Audio: "Many Questions" - 272kb] "DePauw will ask many questions of you over the next four years," DePauw University President Robert Bottoms told the 682 new students who arrived on campus. "When do you feel most alive? Is it in the laboratory or is it in writing poetry? What do you really want to become? Do you want your life to make a difference? ...

[DOWNLOAD VIDEO: "Our Hope for You" 1085KB] "In your four years here, our hope for you is that you will learn as a member of this community to aspire to excellence, to be filled with gratitude
for the opportunities we afford you, to make friends and build community, and to learn to serve others."
Read more by clicking here.
"This is another group of intellectually curious and academic high achievers who will bring a lot of new energy to our campus," says Madeleine Eagon, vice president for admission and financial aid. "We're very excited to welcome them to the DePauw community."
Back