Charter for Indiana Asbury University is Approved
January 10, 1837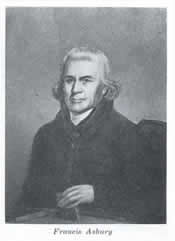 January 10, 1837, Greencastle, Ind. - The charter for Indiana Asbury University -- a new institution to be named in honor of Bishop Francis Asbury (1745-1816), the first American bishop of the Episcopal Methodist Church -- was duly approved on this date by the Indiana General Assembly. Despite its sectarian sponsorship by the Indiana Conference of the Episcopal Methodist Church, the "Seminary of learning" was to be founded "for the benefit of the youth of every class of citizens, and of every denomination, who shall be freely admitted to equal advantages and privileges of education."
The new University's charter also refers to "an extensive University or College Institution... to be conducted on most liberal principles, accessible to all religious denominations and designed for the benefits of the citizens in general." While some historians point to this statement as reflecting the liberality of the founders' intentions, others suggest that it merely represents the lip service to nonsectarianism required to win legislative approval.
The book, DePauw: A Pictorial History, from which this text is taken, notes that in 1837, Greencastle, the site for the new university, was still a raw frontier village. It was formed from land given to the newly created Putnam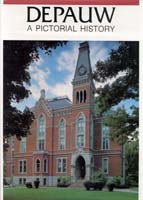 County for its seat of government by pioneer settler Ephraim Dukes in 1823. Surrounded by small log or frame houses scattered along unpaved streets and about 20 or so stores located in a square, the one story, brick, hip-roofed courthouse was the focus of business activity. The first meeting of the trustees was held in the still-unfinished Methodist church building the first week of March 1837.
DePauw: A Pictorial History was written by emeritus professors of history Clifton Phillips and John Baughman, with assistance from professors Harold Spicer and John Schlotterbeck and Wesley Wilson, coordinator of DePauw University's Archives. The text and accompanying photos and illustrations, first published in 1987, can be found online by clicking here.
Back