Indiana Asbury Opens Preparatory Department
June 5, 1837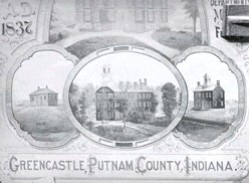 June 5, 1837, Greencastle, Ind. - The preparatory department of the newly-chartered Indiana Asbury University opened on this day. The book DePauw: A Pictorial History notes that a preparatory department was "essential to any institution of that day hoping to obtain students qualified to undergo the rigor of the classical college curriculum." Cyrus Nutt, a Methodist minister and recent graduate of Allegheny College in Pennsylvania, oversaw the new department. The book states, "He used a room in the town seminary until August, when he moved to the more commodious county seminary on the southeast corner of the present Seminary Street and College Avenue, which remained the site of the new university's activities for the next three years."
The text continues, "By November 1837, the infant institution boasted 40 students, ranging in age from 13 to 28. As early as December the trustees began making appointments to the college faculty. They elected the Rev. Joseph S. Tomlinson professor of mathematics, but the Transylvania University graduate declined to leave the presidency of Augustana College in Kentucky for what seemed an uncertain future in Greencastle. A few months later he also rejected the board's offer of the presidency. The first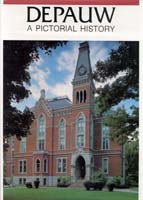 regular member of the faculty, then, was Cyrus Nutt, who accepted an appointment as professor of languages in addition to his post as principal of the preparatory department. For the moment he also served as acting president and was assisted in the preparatory classes by the Rev. John Weakley."

DePauw: A Pictorial History was written by emeritus professors of history Clifton Phillips and John Baughman, with assistance from professors Harold Spicer and John Schlotterbeck and Wesley Wilson, coordinator of DePauw University's Archives. The text and accompanying photos and illustrations, first published in 1987, can be found online by clicking here.
Back