Early Campus Building 'The Edifice' Ravaged by Fire
February 12, 1879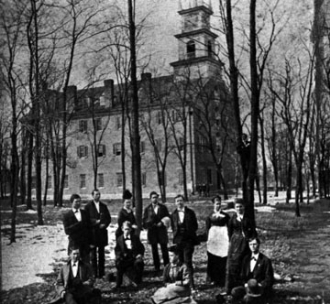 February 12, 1879, Greencastle, Ind. -"Dramatically, at midday on February 12, 1879, a fire destroyed most of the Edifice except for its outer walls," according to the book DePauw: A Pictorial History. "Greencastle had experienced two major town fires in 1874 and 1875, which had virtually wiped out the south and east sides of the public square and much of downtown, including many fraternity halls. Hence the city fathers had been wrestling with the problem of an adequate water supply and a fire company, which had not been yet resolved. The Edifice fire climaxed this series of disasters." (photo shows students in front of the Edifice, circa 1870s)
The summary continues, "The fire began at noon, and the fire company arrived about a half hour after its discovery because of a delay in getting the horses that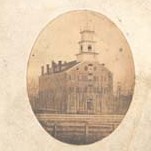 pulled the equipment from the livery stable. Almost immediately water from the nearest cistern was used up; the fire lasted about four hours." The cornerstone for the Edifice was laid in 1837, the year the University was founded. It was completed five years later.
"We were all at dinner," reads an account of the fire published a month later in Asbury Monthly, and reprinted in DePauw Through the Years. "Fire! Fire! FIRE!... Clang! Clang! go the firebells. Why, what a rush the people are making down the street! They must all be crazy to be running insanely after -- FIRE! THE OLD COLLEGE IS BURNING!... Roof goes in. Tower tumbles. One story is gone already, and the Museum with it. The great bell is melted, and the old clock... has expired, retired. It is time for memory and for tears."
After the fire, according toDePauw: A Pictorial History, "Plans were quickly formulated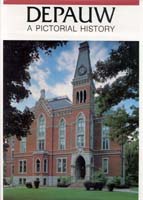 to reconstruct the old building, and within eight months it was ready for occupation once more. It had been enlarged by additions on both east and west, with the main entrance now facing east rather than north. While the renovated building lacked the peculiar charm of the old Edifice, the new West College, as it was renamed, gave good service to the university for the next 50 years." The building was declared unsafe in 1930 and demolished four years later. Read more about the Edifice by clicking here. An account of the fire can be found here.
DePauw: A Pictorial History was written by emeritus professors of history Clifton Phillips and John Baughman, with assistance from professors Harold Spicer and John Schlotterbeck and Wesley Wilson, coordinator of DePauw University's Archives.
The text and accompanying photos and illustrations, first published in 1987, can be found online by clicking here.
Back