Cornerstone Laid for College 'Edifice'
June 20, 1837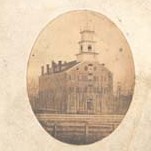 June 20, 1837, Greencastle, Ind. - On this day, according to the book DePauw: A Pictorial History, "the cornerstone was laid for the college 'Edifice' as it was generally known for the first 35 years of its existence, before a crowd estimated at 10,000 people -- and at an incredible 20,000 by some -- on a cold day marked by rain and snow flurries ... Completed in 1842, it cost about $20,000."
The text continues, "The first floor of the original Edifice contained three recitation halls and a large chapel. On the second floor were additional classrooms and on the third floor the library and two large halls for the student literary societies. Several chimneys from the numerous stoves used for heating protruded from the roof, which was also graced by a short tower housing the reportedly very melodious college bell. In 1852, a large clock was installed in the tower's cupola with dials on all four sides. For the times it was truly a magnificent structure and provided more than adequate quarters for all college activities until the erection of East College in the 1870s."
Read more about the "Edifice" here.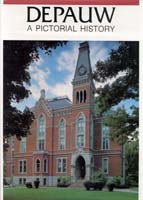 The building was severely damaged by a fire on February 12, 1879 (read more here) and subsequently rebuilt. The structure was declared unsafe in 1930 and demolished four years later.
DePauw: A Pictorial History was written by emeritus professors of history Clifton Phillips and John Baughman, with assistance from professors Harold Spicer and John Schlotterbeck and Wesley Wilson, coordinator of DePauw University's Archives. The text and accompanying photos and illustrations, first published in 1987, can be found online by clicking here.
Back