Indiana Asbury Opens to Women Students
June 26, 1867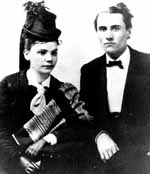 June 26, 1867, Greencastle, Ind. - On this date, the DePauw University Board of Trustees decided to open Indiana Asbury to women, "with the simple statement that the faculty are 'authorized to receive Female students into the regular College classes of the University,'" notes the book, DePauw Through the Years. It adds, "the final action 'for' was by a large majority." (photo shows: Mary Nelson Stevenson, an 1873 graduate, who was in the second class to admit women, with her husband, Henry Augustus Buchtel, an 1872 graduate)
It adds, "The five young ladies who entered the freshman class in the fall of 1867, pioneering the noble experiment, were -- Alice Allen, Laura Beswick, Bettie McReynolds Locke, Mary Euphemia Simmons -- all of whom graduated four years later, and Amanda Beck, who dropped out after her freshman year."
George B. Manhart, professor emeritus of history at DePauw, writes, "Their first entrance into the chapel was memorable. As they reached the door the men turned and stared, and the impulse of the girls was to flee. One suggested that they take seats in the rear, to which Bettie Locke replied: 'What, women take a back seat? Never.' So they marched to the front, taking seats in the Amen corner."
DePauw: A Pictorial History notes, "The coeds had to face the open hostility of a minority of male students resentful of their presence at first. But with the wholehearted support of the faculty, the board, and most Methodist clergy, and the strength of their own resolve they soon won a position of respect and full acceptance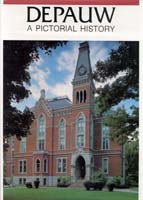 in the university. Their numbers grew slowly but surely and in 1871 girls were admitted to the preparatory department as well. Barred from the all-male literary societies, they founded their own Philomathean Literary Society in 1869, and the next year their fellow students were startled to discover that a female social fraternity, or sorority, had been organized on campus -- Alpha Chapter of Kappa Alpha Theta, the first of its kind in the United States.
DePauw: A Pictorial History was written by emeritus professors of history Clifton Phillips and John Baughman, with assistance from professors Harold Spicer and John Schlotterbeck and Wesley Wilson, coordinator of DePauw University's Archives. The text and accompanying photos and illustrations, first published in 1987, can be found online by clicking here.
Back