Asbury Notes Publishes First Edition
April 7, 1852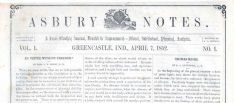 April 7, 1852, Greencastle, Ind. - Indiana's oldest college newspaper, The DePauw, published its first edition on this date under the name Asbury Notes. According to DePauw Through the Years, the newspaper "was described as a 'Semi-Monthly Journal, Devoted to Improvement -- Mental, Intellectual, Physical, and Aesthetic,' and it included articles by the faculty and others, extracts from addresses, selections from the papers of the literary societies, a Ladies Department with contributions from Mrs. Larabee's school, various items lifted from other papers, and 'Scraps of News,' local, national and foreign. The subscription price was a dollar a year," the book adds.
On April 5, 2002, The DePauw celebrated its 150th anniversary (read more here) with a series of events that brought alumni back to campus. Among the nationally-known journalists the student-run newspaper has produced are: "business journalist of the century" Bernard Kilgore and Kenneth C. Hogate of the Wall Street Journal; Eugene C. and Eugene S. Pulliam of the Indianapolis Star and Central Newspapers chain; Donald Maxwell, former editor of the Chicago Tribune;Robert Giles, curator of the Nieman Foundation for Journalism at Harvard University and
former editor of the Detroit News; John McWethy, ABC News Senior Pentagon Correspondent; and James B. Stewart, Pulitzer Prize-winning former front page editor of the Wall Street Journal and editor-at-large of SmartMoney magazine.
The Society of Professional Journalists was founded on the DePauw campus in 1909; the Indiana Journalism Hall of Fame located here in 1966; and the Eugene S. Pulliam Center for Contemporary Media, opened in 1991 as further examples of the traditions of journalism that DePauw has created and cultivated.
Back