Ground is Broken for Andrew Carnegie Library
January 11, 1908
January 11, 1908, Greencastle, Ind. - During the month of January 1908, ground was broken for the Andrew Carnegie Library. It was constructed with a $50,000 gift from the industrialist "plus a subscription from donors of $57,000 for maintenance," notes DePauw: A Pictorial History. The building was the University's main library for nearly 50 years before being converted into the Emison Art Center.
On the day of the groundbreaking ceremony, according to DePauw Through the Years, DePauw's president and financial secretary "held a plow pulled by 150 students. The library was dedicated in October, but owing to delays in receiving shelving and other equipment it c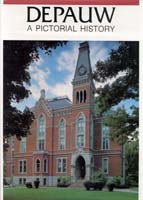 ould not be used until the following spring."
DePauw: A Pictorial History was written by emeritus professors of history Clifton Phillips and John Baughman, with assistance from history professors Harold Spicer and John Schlotterbeck and Wesley Wilson, coordinator of DePauw University's Archives.
The text and accompanying photos and illustrations, first published in 1987, can be found online by clicking here.
Back