"Handsome and Commodious" Rector Hall is Dedicated
October 16, 1917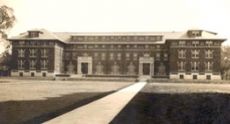 October 16, 1917, Greencastle, Ind. - Rector Hall, a women's dormitory called "handsome and commodious structure" in DePauw: A Pictorial History, was dedicated on this day. Funding for the building came from Edward Rector, "a wealthy patent attorney whom his friend Roy O. West, a DePauw graduate and fellow member of the Chicago bar, had drawn into an active interest in DePauw affairs," according to DePauw Through the Years. "Learning that the university needed an additional dormitory to house the growing number of women students, Rector agreed to provide $100,000 to construct one." Rector later provided another $100,000 "to cover additional expenses for the building and its furnishings."
Construction of Rector Hall began in 1916 on the site of the former Simpson Art Hall. The dormitory was damaged beyond repair in an April 7, 2002 fire (read more here).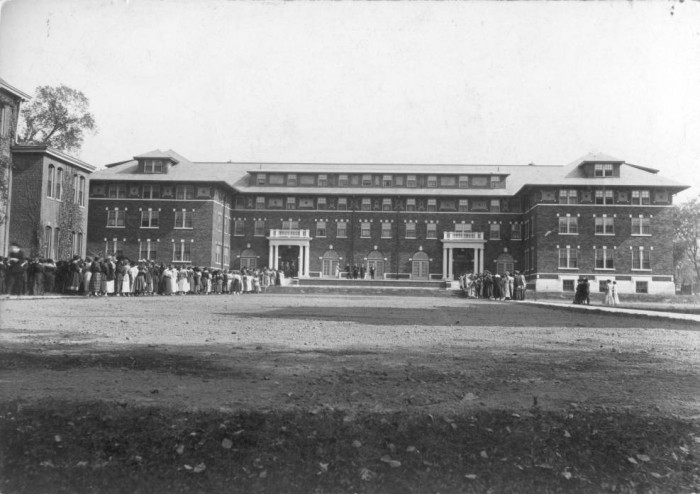 Rector Village now occupies the site.
Rector Hall, George Manhart wrote, "was the first of several campus buildings designed by Robert Frost Daggett, son of the founder of the firm which did the architectural work for the gymnasium. Trained at the Ecole des Beaux-Arts in Paris, Daggett mingled elements of the Classical Revival and Italian Renaissance styles to create a dormitory majestic in appearance and at the same time highly functional. Its dark red brick walls, constructed on an H-shaped floor-plan three stories high, enclosed a spacious reception hall and dining facilities as well as both single and double sleeping rooms... Mr. Rector took a great personal interest in the building, visiting many campuses and inspecting their dormitories. As President [George] Grose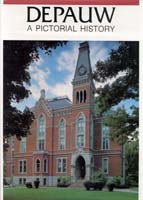 expressed it, Rector 'put himself into every brick and stone of Rector Hall.'"
DePauw: A Pictorial History was written by emeritus professors of history Clifton Phillips and John Baughman, with assistance from professors Harold Spicer and John Schlotterbeck and Wesley Wilson, coordinator of DePauw University's Archives.
The text and accompanying photos and illustrations, first published in 1987, can be found online by clicking here.
Back