Aaron Copland and Buckminster Fuller Among Guests During DePauw's First Winter Term
January 26, 1971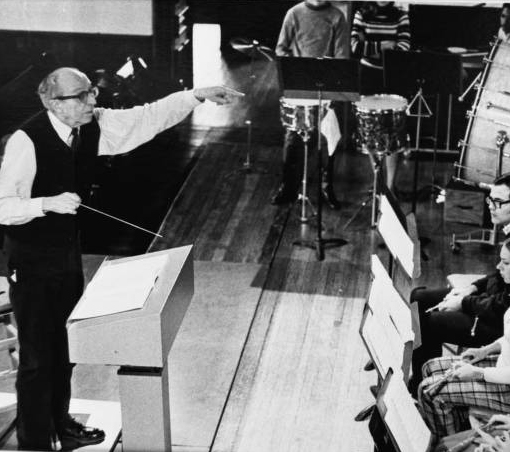 January 26, 1971, Greencastle, Ind. - A visit by composer and conductor Aaron Copland was a highlight of DePauw University's first Winter Term. Copland spent three days on campus in late January, 1971.
The photo at right shows the famous visitor conducting the DePauw Symphony. The top shot shows the famous musician rehearsing with undergraduates.
Copland is beloved for compositions such as Appalachian Spring, Billy the Kid, Fanfare for the Common Man and Third Symphony.
The month-long Winter Term, which takes place each January between fall and spring semesters, reflects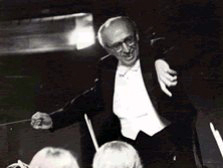 DePauw's serious commitment to non-traditional, experiential learning. Winter Term is a time of adventurous, intellectual exploration in an atmosphere with a reduced emphasis on grades.
Approximately 2,000 undergraduates stayed on campus for Winter Term; about 400 others received approval for work away from DePauw. One group of DePauw students went to Cleveland to study environmental problems and met with that city's mayor, Carl Stokes.
The first Winter Term also included a campus visit by architect R. Buckminster Fuller, research professor of the School of the Fine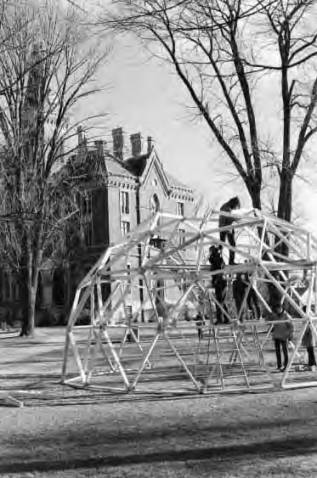 Arts at Southern Illinois University. While on campus, Dr. Fuller and DePauw students constructed a geodesic dome on East College lawn, which is seen in the photo at left, and below.
In a lecture at DePauw, Fuller states, "If we assume that the present rate of acceleration of man's technoeconomic evolution is to persist, we also will have to assume that the world's present political divisionings into separate, sovereign states will become as obsolete as ... city states." He added, "We are not a nation. Nations are tribes of people who have been isolated for a long time and have, of reproductive necessity, inbred ... and have adapted themselves to exclusively local physical conditions."
Speaking to a packed Gobin Church, Dr. Fuller added, "Now, of course, you have the environmentalists telling you that you cannot industrialize any further because of pollution, which is nonsense. Pollution is nothing but resources we are not harvesting. We allow them to disperse because we've been ignorant of their value. But if we got onto a planning basis, the government could traps pollutants in the stacks, and spillages, and get back more money than this could cost out of the stockpiled chemicals they would be collecting."
Other Winter Term 1971 guests included Elvis J. Stahr, president of the National Audubon Society; Percy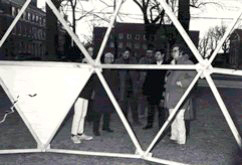 Julian, groundbreaking chemist and 1920 DePauw graduate; Indianapolis Mayor Richard G. Lugar; Alan F. Guttmacher, president of Planned Parenthood-World Population; and Winthrop Rockefeller, governor of Arkansas.
Learn more about Winter Term by clicking here.
DePauw: A Pictorial History was written by emeritus professors of history Clifton Phillips and John Baughman, with assistance from professors Harold Spicer and John Schlotterbeck and Wesley Wilson, coordinator of DePauw University's Archives. The text and accompanying photos and illustrations, first published in 1987, can be found online by clicking here.
Back