USA Today Article on Colleges and Online Music Cites DePauw
August 25, 2004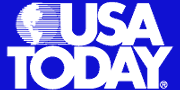 August 25, 2004, Greencastle, Ind. - "Colleges are hotbeds of music piracy," begins an article that appeared on the front page of yesterday's USA Today. "To give students a legal alternative, digital music meisters are wooing campuses with generous deals on Internet music-on-demand ... About 25 of the nation's 3,300 colleges will offer music to their students on campus networks this fall," the newspaper states, and in a sidebar column lists DePauw University and its partnership with MusicRebellion.
Access the story here and the sidebar -- which notes, "Some of the nation's top schools have aligned themselves with fee-based digital music services for students," -- here.
Read all about DePauw's agreement with MusicRebellion in this story. An article yesterday on MTV.com on the same topic also mentioned DePauw. Learn more here.
Back