Joe Smith '91 Named Political Director of Indiana Democratic Party
August 26, 2004

August 26, 2004, Greencastle, Ind. - Joe L. Smith Jr., a 1991 graduate of DePauw University, has been named political director of the Indiana Democratic Party. In his new role, Smith will coordinate and oversee the Party's political operations across the state. The 35-year-old comes from the Indianapolis law firm of Baker & Daniels, where he's worked as an attorney since March 2003.
"I'm thrilled that someone with Joe's experience and ability has agreed to serve the state Democrat Party at such a crucial time for Indiana," said state Democratic Chairman Kip Tew. "I'm confident that with his leadership and talent Governor Joe Kernan, Lt. Governor Kathy Davis, Joe Hogsett, Susan Williams and the entire Democratic ticket will score a resounding victory in November."
At Baker & Daniels, Smith's practice was focused on government affairs. Prior to joining the firm, Smith served as an executive assistant to the late Governor Frank O'Bannon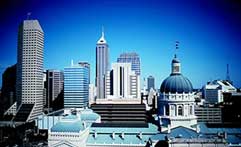 and as the governor's liaison to minority business development, the Indiana Department of Transportation and the Hoosier Lottery. He also worked as an attorney for the Office of Federal Contract Compliance Programs in the U.S. Department of Labor. Smith also served as an attorney with UAW/General Motors Legal Services.
An article in the Gary Crusader notes, "Smith earned a bachelor's degree in economics from DePauw University in 1991, and a law degree from the Indiana University School of Law in Bloomington in 1995." Joe Smith also serves on the board of directors of the Indiana State Fair.
Back