"A Precision-Targeted Bomb" Responds to Questions About Kerry's Service, Prof. Ken Bode Writes
August 27, 2004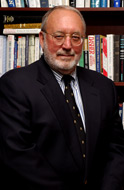 August 27, 2004, Greencastle, Ind. - "Until Max Cleland rolled his wheelchair up to the gates of the ranch in Crawford, Texas, demanding to talk to the president, the Bushies had a good thing going," writes Ken Bode in today's Indianapolis Star. Bode, Eugene S. Pulliam Distinguished Visiting Professor of Journalism, notes, "By the Bushies, I don't mean just the White House and the family. I mean that network of Texas cronies and political operatives, the stable of friends and moneybags who are always at the ready when Poppy or Junior needs help. Then, of course, there are the captive voices at FOX News and talk radio ready to massage the message over and over 24/7."
Dr. Bode argues that the ads questioning John Kerry's medals and service in the Vietnam War (placed by Swift Boat Veterans for Truth, "organized as a 527 group [and] required to be independent of any campaign"), and a recent appearance by former Sen. Robert Dole, in which he also questioned Kerry's service, were having a

negative effect on Democrat Kerry's campaign. But he suggests the scene that played out at President Bush's Texas ranch this week may have turned the tide.
"Max Cleland is a triple amputee Vietnam War veteran, a former U.S. senator who was defeated for re-election in a campaign where his patriotism was questioned," the professor writes. A Silver Star recipient, he was depicted as soft on Saddam Hussein and Osama bin Laden in attack ads reminiscent of what is now being done to Kerry. As David Halberstam says, in America today patriotism is an ideologically determined condition. For the job
he undertook this week, Cleland is a precision-targeted bomb. Imagine how George W. Bush felt, lounging at the ranch, when he got the news, 'Max Cleland is rolling up the driveway.'"
Read the op-ed at College News.org.
Access other recent columns by Ken Bode here, here, here, here, here, here, here and here.
Source: Indianapolis Star
Back