Star Wars Author & Location Scout David West Reynolds to Speak October 27
October 13, 2004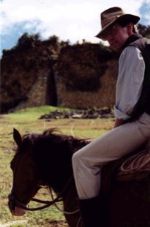 October 13, 2004, Greencastle, Ind. - DePauw University's Film Studies program welcomes archaeologist, best-selling author and science media consultant David West Reynolds to campus on Wednesday, October 27. Reynolds, whose books include the New York Times bestseller, Star Wars: Episode I, The Visual Dictionary, will speak on "The Archaeology of Star Wars." His lecture, co-sponsored by the classics department and ArtsFest, will begin at 7 p.m. in the auditorium of the Richard E. Peeler Art Center, immediately following a screening of the orginal Star Wars, which will begin at 4 p.m. at the same location.
David West Reynolds earned his Ph.D. in classical archaeology at the University of Michigan, specializing in Imperial Rome and ancient Egypt, and is also an expert in space exploration. In 1995, Reynolds undertook an unusual quest to re-locate the filming sites in Tunisia where the desert scenes had been shot in 1976 for the movie Star Wars. Together with teammate Michael Ryan, Reynolds successfully tracked down the remote locations and found 20-year-old Star Wars props in the Sahara. The project led to official location scouting work for Lucasfilm, and then to a full-time job at George Lucas' Skywalker Ranch in California, where Reynolds held a position on the marketing team behind the record-setting launch of Star Wars Episode I:
The Phantom Menace.
In addition to numerous popular magazine articles, he penned seven Star Wars books. Five of those titles became New York Times bestsellers, one reaching #1 on that list. Having learned about media and popular communication from one of the best companies in the business, Reynolds returned to scientific work and non-fiction writing, founding Phaeton Group, Inc. to support field science projects and bring them to the public.
David West Reynold's presentation is free and open to the public.  For more information on DePauw's Film Studies program, click here.
Back