Alumni: You're Invited to Join Tiger Pep Band Old Gold Weekend
September 4, 2004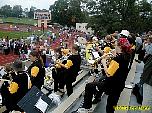 September 4, 2004, Greencastle, Ind. - Alumni musicians are invited to bring their instruments along with them when they return to campus for Old Gold Weekend, October 8 & 9. Per tradition, the Tiger Pep Band will welcome alumni into its ranks to perform during the Tigers football game against Sewanee (University of the South). The game kicks off at 1:30 p.m. at Blackstock Stadium.
2003 graduates David Ziemba and Daniel Reck are spearheading the development of an Alumni Tiger Pep Band, that will join the student pep ensemble at major events such as Old Gold and the annual Monon Bell Classic. "This will provide an excellent opportunity for alumni to become fully engaged with current students, which provides for a strong relationship for both parties," Reck says. "Alumni will gain better ties to the contemporary University
while current students will accumulate alumni contacts which will become more valuable as they graduate and move into the world."
Interested alumni can learn more by clicking here, or contact Daniel Reck at (765) 658-6571 or by sending an e-mail here.
Reck points out, "even if they don't have an instrument anymore, it's no excuse. We'll do everything to find 'em one that they can squawk on!"
Back