Ball State U's Student Newspaper Cites DePauw's US News Showing
August 31, 2004

August 31, 2004, Greencastle, Ind. - "Under the first year experience category, the magazine listed other universities such as Princeton, DePauw and Syracuse for also promoting programs that effectively welcomed freshmen to their campuses," notes an article in the Ball State Daily News. The story, published yesterday, examines the findings of U.S. News & World Report's 2005 rankings of "America's Best Colleges." DePauw's first-year experience -- depauw.year1 -- is cited as a "program to look for," and the magazine ranks DePauw in the top tier of America's national liberal arts colleges for a fifth consecutive year.
Read the article in the Daily News, which is Ball State University's student newspaper, by clicking here.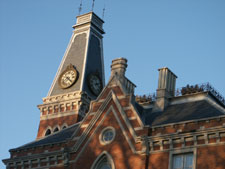 Learn more about DePauw's showing in the U.S. News rankings here.
DePauw's academics and campus life are also reviewed in Princeton Review's annual publication, The Best 357 Colleges: 2005 Edition (read more here) and the new, 2005 edition of the Unofficial, Unbiased Guide to the 331 Most Interesting Colleges (read more here).
Back