Gift by Industrialist Washington C. DePauw is Announced
October 17, 1882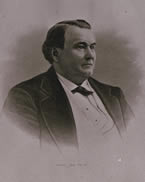 October 17, 1882, Greencastle, Ind. - On this date in Indianapolis, Bishop Thomas Bowman announced that Washington C. DePauw -- an industrialist from New Albany, Indiana and chairman of Indiana Asbury University's Board of Trustees -- had agreed to make a substantial contribution to the institution. The gift provided the capital to keep the financially-strapped University solvent, and resulted in its name being changed to DePauw University in 1884.
The book, DePauw: A Pictorial History, notes: "Indiana Asbury came close to going under and might have closed as similar institutions were forced to do at this time, had not a financial savior appeared in the person of New Albany industrialist Washington C. DePauw, president of the board of trustees. After long and complicated negotiations between DePauw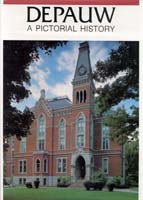 and the trustees and officers of the university, he agreed to make a substantial contribution to the institution. In return Indiana Asbury was to be renamed DePauw University and to embark upon an ambitious program of expansion of its facilities and educational programs. By May 1884 Old Asbury had passed into history, though mourned by many of its alumni. In its place arose a new and greater DePauw University, which was to carry on the old traditions while at the same time extending the scope and reach of the much-loved institution."
DePauw: A Pictorial History was written by emeritus professors of history Clifton Phillips and John Baughman, with assistance from professors Harold Spicer and John Schlotterbeck and Wesley Wilson, coordinator of DePauw University's Archives. The text and accompanying photos and illustrations, first published in 1987, can be found online by clicking here.
Back