University Celebrates Its New Name: DePauw
January 17, 1884
January 17, 1884, Greencastle, Ind. - "The legal procedure necessary for the change of the university's name had been gone through," writes William Warren Sweet in his history book on DePauw's first 100 years. On this date in 1884, "an elaborate celebration, after the fashion of the time, [was] staged in Meharry Hall." In October 1882, industrialist and board chairman Washington C. DePauw had made a financial gift to financially-strapped Indiana Asbury University, which would now change its name to DePauw.
Sweet notes: "A contemporary enthusiast, writing in the DePauw Monthly, described the celebration as a 'grand occasion' which would resound through the years: for would not old men grey with age sit about their firesides and describe it to their grandchildren as one of 'the noted events of their lives'? Picture the occasion! Meharry Hall (then quite new) crowded with a festive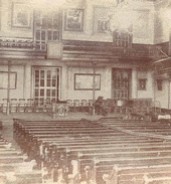 throng: 'benefactors, trustees, visitors, students, citizens, noncitizens, little girls, big girls... lieutenant-governors, preachers.' In front rising above the rostrum were great letters covered with evergreen spelling: 'DePAUW'... There is much applause, and at last loud demand for Mr. DePauw to say something. He steps forward and delights the audience with his words, assuring them that the university would 'get more' than it knew and promising 'all that had been agreed upon.'"
The book, DePauw: A Pictorial History, says that Mr. DePauw had "agreed to make substantial contributions, provided that Indiana Methodists would raise $150,000 for the endowment and that Greencastle and Putnam County residents would secure $60,000 to purchase land for enlargement of the campus. Though the Methodists came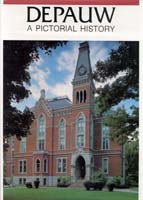 up $30,000 short in their campaign, DePauw matched each dollar contributed with two of his own and signed documents effecting the transaction in October 1883. The board of trustees voted to approve the name change in January 1884, and on May 5 it was made official by the Putnam County Court."
DePauw: A Pictorial History was written by emeritus professors of history Clifton Phillips and John Baughman, with assistance from professors Harold Spicer and John Schlotterbeck and Wesley Wilson, coordinator of DePauw University's Archives. The text and accompanying photos and illustrations, first published in 1987, can be found online by clicking here.
Back