Washington C. DePauw Dies at Age 65
May 5, 1887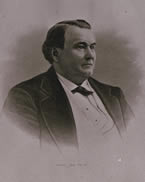 May 5, 1887, Greencastle, Ind. - On this day, Washington C. DePauw -- the industrialist whose 1882 gift revitalized the financially troubled Indiana Asbury University, which was then renamed for its benefactor -- died suddenly while on a business trip to Chicago. He was 65 years old.
A New York Times story noting DePauw's passing calls him "one of Indiana's worthiest and, in many respects, best known citizens." It points out his many efforts on behalf of the Methodist Church and other institutions, as well as his "noblest benefaction, the giving to Asbury University, at Greencastle, an endowment, in acknowledgement of which the Trustees changed the name to DePauw University. There is great distress and unrest at Greencastle because of Mr. DePauw's death inasmuch as his work was by no means done, and it is not definitely known in just what shape the University will be left."
In his history of DePauw's first 100 years, William Warren Sweet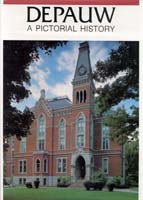 writes, "there can be no doubt that he [Mr. DePauw] rendereda real and lasting service to the institution to which he had given so much of his time and thought as well as of his means." DePauw: A Pictorial History notes that Washington C. DePauw's "memory lives on in the name of the university in whose rebirth he played so important a role."
DePauw: A Pictorial History was written by emeritus professors of history Clifton Phillips and John Baughman, with assistance from professors Harold Spicer and John Schlotterbeck and Wesley Wilson, coordinator of DePauw University's Archives. The text and accompanying photos and illustrations, first published in 1987, can be found online by clicking here.
Back