Studebaker Administration Building is Dedicated
June 5, 1918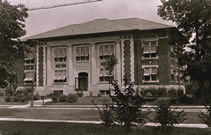 June 5, 1918, Greencastle, Ind. - On this day, the new Clement Studebaker Memorial Administration Building was formally dedicated. In his book marking the University's 100th anniversary, William Warren Sweet notes the structure "was made possible by the joint gift of $50,000 by Clement Studebaker Jr., Colonel George Studebaker, and Mrs. Charles Studebaker Carlisle, in honor of their father -- a longtime DePauw trustee -- and mother.
Designed by Robert Frost Daggett, the Studebaker Building was designed "to house the offices of the president, dean, registrar, treasurer, and other members of a growing administrative staff."
The text in DePauw: A Pictorial History, adds, "the two-story brick and limestone building boasted a large classical columned entrance. Inside was an ornate marble stairway with busts of Clement and Anne Wilburn Studebaker on the first landing, along with a statuary group of the three Studebaker children as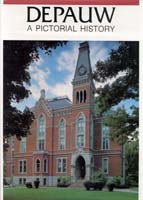 youths in romantic pose. On the second floor of the building was a large, well furnished Trustees' Room, which came also to be used for faculty meetings ... [The new building] allowed all the scattered university offices to be centralized.
DePauw: A Pictorial History was written by emeritus professors of history Clifton Phillips and John Baughman, with assistance from professors Harold Spicer and John Schlotterbeck and Wesley Wilson, coordinator of DePauw University's Archives.
The text and accompanying photos and illustrations, first published in 1987, can be found online by clicking here.
Back