Mansfield Hall Suffers Major Damage in Fire
October 15, 1933
October 15, 1933, Greencastle, Ind. - "In the early morning hours (on this Sunday morning) ... fire broke out in Mansfield Hall, causing damage estimated at $100,000 to the oldest women's dormitory on campus," reads an account of the incident in DePauw: A Pictorial History. "An intrepid co-ed carried Mildred Dimmick, the housemother, who had sprained her ankle, out of the burning building, but the only casualty was the president's son, Robert Oxnam, who was struck but not seriously injured by a piece of plaster while taking part in the rescue of residents' belongings."
The text continues, "Most of the displaced women were assigned to Johnson House, a frame building on Walnut Street donated to the university some years before by Greencastle resident D. B. Johnson and used up to this time for housing male students. A few freshman sorority pledges were allowed to take up residence in their chapter houses. After an appraisal of the partly-destroyed building that indicated the unfeasibility of restoring it,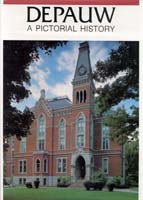 Mansfield Hall was razed and the site landscaped."
DePauw: A Pictorial History was written by emeritus professors of history Clifton Phillips and John Baughman, with assistance from professors Harold Spicer and John Schlotterbeck and Wesley Wilson, coordinator of DePauw University's Archives.
The text and accompanying photos and illustrations, first published in 1987, can be found online by clicking here.
Back