Bishop Roberts Passes Away
March 26, 1843
March 26, 1843, Greencastle, Ind. - On this day, Bishop Robert R. Roberts, who was instrumental in the establishment of the University, died at age 64. A year later, upon resolutions passed by the Indiana General Assembly, Bishop Roberts' remains were moved from his Indiana farm to the campus of Indiana Asbury University. The monument that marks the graves of Bishop Roberts and his wife can be found in the academic quad, east of Roy O. West Library.
"The story of the beginnings of Indiana Asbury University would not be complete without the name of Bishop Robert R. Roberts," wrote William Warren Sweet in his book marking the University's 100th anniversary. "He was a resident of Indiana, having moved to a farm in Lawrence County in 1819, and was the first Methodist bishop to reside west of the Allegheny Mountains. He was also the first married bishop of the Church. During his residence in Indiana he had greatly endeared himself to the Methodists of the state, and when the project of establishing a Methodist university was under discussion, he gave it hearty support. He presided over the Indiana Conference in 1834, 1835, and 1836, the sessions at which the decisive steps were taken to establish the university."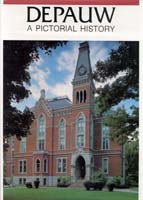 The book DePauw: A Pictorial History notes that Bishop Roberts gave half of his annual salary of $200 to the University, and named it a residuary legatee of his will. In 1961, a new dormitory, Bishop Roberts Hall, was completed and named for him.
DePauw: A Pictorial History was written by emeritus professors of history Clifton Phillips and John Baughman, with assistance from professors Harold Spicer and John Schlotterbeck and Wesley Wilson, coordinator of DePauw University's Archives. The text and accompanying photos and illustrations, first published in 1987, can be found online by clicking here.
Back